&nbsp Body Language Workshop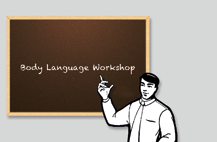 The Secrets of Body Language & the Art of Active Listening

Overview
The presentation is designed to introduce participants to non-verbal communication & body language gestures (target points, positions and postures) concentrating on the arms/hands, body and face including eye contact, eye movement and eye tracking, the hidden power of smile, cultural differences, and more, with an emphasis on consistency between verbal and non-verbal communication and how to build trust, rapport and confidence through non-verbal communication. g sales.

Key Topics Covered
This program teaches how to use non-verbal communication effectively to reinforce what we say. Teaches how to build trust, rapport and confidence though non-verbal communication. Also teaches how to read what others really think and feel.

The presentation is designed to be used as a dynamic workshop, webinar or a formal presentation. Depending on the presenter and the level of interaction chosen, the duration of the presentation will be 2 to 3 hours.
GUESS FREE SELLING 2.0 SALES TRAINING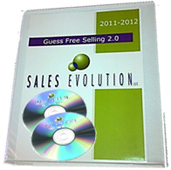 Guess Free Selling 2.0 Sales Training - Your prospects are tired of constantly being sold to. So why keep doing it while settling for the same mediocre results?
Break away from those old school sales tricks, tactics and techniques that today's savvy prospects have come to anticipate and abhor. It's time to transform your sales process thru the power of creating decision driven outcomes with Scott Messer's breakthrough methodology delivered in the Guess-Free-Selling® sales training and coaching program. You will learn that today's sales are nothing more than great conversations about establishing certainty in the mind of the prospect that you will deliver on the outcome she is already seeking to achieve. The newly published GFS 2.0 Training and Coaching is the latest upgrade of the award winning sales and business development program from Sales Evolution, LLC, and the leader in the "Outcome-Decisioning®" sales process that is revolutionizing sales.
SALES CATALYST PROFESSIONAL TRAINING
Sales Catalyst Professional Training (2 day workshop) - What if there was a way to radically transform your sales performance by increasing the value of your solution within the mind of the customer?
Sales Catalyst Certification Training is designed to create a culture focused on growth by equipping every member of your organization to effectively sell your products and services. The goal of Sales Catalyst Training is to help every member of your team uniquely position and sell your products and services while building strategic alliances with every customer. The best way to do this is by developing an integrated approach to sales transformation.
We utilize innovative teaching methods to create dynamic environments for effective sales training. We provide you with tangible tools for immediate application to help you close more sales in today's economy. At Sales Catalyst Certification Training you will learn how to:
1. Connect: Find New Customers!
2. Stand Out: Position Yourself to Win and Leverage Explicit Needs!
3. Close: Capture the Heart of Your Customer and Seal the Deal!
EMOTIONAL INTELLIGENCE TRAINING
Emotional Intelligence 1 Day Training Program - Overview
Based on the foundation that an increased understanding and proper utilization of emotional intelligence can positively influence work performance, The Emotional Intelligence Skills Assessment (EISA) program is both a measure of emotional intelligence and a framework for improving emotional and social functioning. The EISA helps to manage and maximize the effectiveness of your most valuable resource: people.

Key Topics Covered
The EISA provides a strong, fundamental assessment of emotional intelligence (EI) along with five core factors that can be developed to maximize emotional and social functioning. The EISA is designed to provide feedback on emotionally and socially intelligent behaviors across five dimensions, which are:
IT'S OKAY TO BE THE BOSS
It's Okay To Be The Boss 1 Day Training Program - Overview
This program is designed to change the way managers think about their supervisory responsibilities, to wit, strong and highly engaged is better than weak and hands-off! The program teaches dozens of best practices to help leaders, managers, and supervisors get much better at leading, managing, and supervising.

Key Topics Covered
This program teaches managers to put their management time where it belongs and to attend to the basics every step of the way. This is done through effective utilization of the Seven Myths:
LEADING THROUGH TRANSITIONS
Leading Through Transitions 1 Day Training Programs - Overview
Leading Through Transitions gives leaders the confidence to more clearly assess their impact and learn how to meet the demands of both managing the business and leading their people. The guide depicts a strategy for leaders and managers who are charged with navigating themselves and their organizations through times of transition and change.

Key Topics Covered:
Change and Transition
The opening stage of transition begins with a meaningful change event that signals that something that had previously had value and seemed to be working is suddenly being altered or stopped. An ending is required in order to create a transition and change, letting one open the door to exploring new opportunities and finding a degree of comfort with the new beginnings.
THE LEADERSHIP CHALLENGE WORKSHOP
The Leadership Challenge 1 Day Workshop - Overview
Based on the bestselling and award-winning book, The Leadership Challenge by James M. Kouzes and Barry Z. Posner, this workshop demystifies leadership development and approaches it as a measurable, learnable, and teachable set of behaviors, establishing a unique underlying philosophy that leadership is everyone's business.

Key Topics Covered
This learning experience improves participants' abilities to apply The Five Practices of Exemplary Leadership model:
THE FIVE DYSFUNCTIONS OF A TEAM WORKSHOP
The Five Dysfunctions of a Team 2 Day Workshop - Overview
Based on the bestselling book The Five Dysfunctions of a Team by Patrick Lencioni, this program provides a hands-on approach to effectively help teams maximize productivity, as well as lessons and real-life examples on how to create a functional team for maximum results.

Key Topics Covered
This workshop improves participants' abilities to apply The Five Fundamentals, which build on one another to create a strong team: