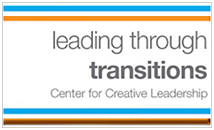 Standard Version (1-Day Workshop)
Custom Program Includes:
Facilitator's Guide
Participant Workbooks
PowerPoint Slides
Authentic Leadership Paradox Wheel Handout
Authentic Leadership Paradox Poster
Participants will:
Learn the importance of building and supporting an environment of trust during times of change and uncertainty
Develop an understanding of the impact that transitions have on themselves, on others, and on their organizations
Develop authentic leadership capacities to facilitate the process of change and revitalization
Change and Transition
The opening stage of transition begins with a meaningful change event that signals that something that had previously had value and seemed to be working is suddenly being altered or stopped. An ending is required in order to create a transition and change, letting one open the door to exploring new opportunities and finding a degree of comfort with the new beginnings.
Managing
Mental models are ingrained assumptions, beliefs, or generalizations that we have come to accept as real, assumptions that then influence how we perceive and make meaning of the world. Our mental models become the formulas that we rely on to make meaning out of our lives and the circumstances we find ourselves in. Three methods of examining and making choices about mental models are an integral part of Leading Through Transitions: Turning the Mirror Inward, "Learningful" Conversation, and Exposing Our Thinking to the Influence of Others.
Emotional Intelligence
Emotional intelligence, also known as EQ, is essentially about recognizing, monitoring, and regulating our own behavior and feelings in order to be more effective. EQ includes the ability to assess the feelings being displayed by others and recognize that those feelings shape their interactions with us. The four levels of understanding EQ utilized in Leading Through Transitions are: Self-Awareness, Self-Management, Social Awareness, and Social Skills.
Learning to Learn
Change events can provide powerful opportunities to learn but only if all the ingredients of development are blended into the experience in sufficient amounts, at appropriate times, and with genuine compassion and sensitivity. Each new opportunity, whether in our work or non-work lives, provides a chance for us to examine and rethink our mental models for successful behavior. While the risk of vulnerability increases with each new opportunity to learn something, developing the capacity to be vulnerable in the face of these risks is a key not only to learning how to learn, but also to learning how to lead.
Resiliency
The idea of actually thriving instead of just surviving is the essence of resiliency. This is a crucial understanding about leading through periods of transition. The goal is not merely to survive the current challenge, but to take advantage to build a more resilient workforce. Resiliency enhances your confidence to take on the next new challenge, which in turn exposes you to more lessons of experience, inviting more leaning opportunities, again reinforcing your resiliency.