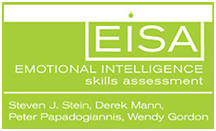 Emotional Intelligence Training - Standard Version (1- Day Workshop)
Custom Program Includes:
Facilitator's Guide
Participant Workbooks
PowerPoint Slides
Winslow Dynamics Profile Assessment
Participants will:
Learn how to manage and maximize the effectiveness of emotional intelligence
Develop strategies for personal growth through emotional intelligence
Be provided with a framework for discussion and coaching emotional intelligence
Perceiving
The ability to accurately recognize, attends to, and understands emotion, perceiving is a crucial skill in team-building and working effectively. Emotional perception skills lead to the effective management of interpersonal relationships, as well as managing one's own emotions, provides more opportunities to be influential, and a heightened awareness of group emotions and interactions, leading to successful interactions and innovations.
Managing
The ability to effectively manage, control, and express emotions, management represents a willingness and ability to be aware of, evaluate, and adequately control the emotions necessary for effective functioning. Developing emotional management can lead to more satisfying interpersonal relationships, increased ability to accurately express emotion, sustain motivation, cope with stress, and make emotionally informed decisions. One's ability to manage emotion successfully can result in more effective communication and decision making.
Decision Making
The appropriate application of emotion to manage change and solve problems, decision making is based upon processing relevant environmental, intra-, and interpersonal cues. An emotionally intelligent individual is well equipped to recognize the need to engage specific emotions to facilitate the processing of relevant sources of information. In other words, the ability to manage change and solve problems is a reflection of one's ability to match one's emotions with the demands of the situation.
Achieving
The ability to generate the necessary emotions to self-motivate in the pursuit of realistic and meaningful objectives. Those with this ability experience more pleasure in success, take greater responsibility for the outcomes of their own actions, enjoy activities with moderate levels of risk, and prefer feedback. People who use their emotions to achieve their goals are often motivated to succeed and spend less emotional energy and time thinking about failure. Those individuals who maintain a task orientation and possess confidence in their ability to achieve report better moods and higher social and emotional adjustment than those individuals who lack the emotional intelligence necessary for achievement skills.
Influencing
The ability to recognize, manage, and evoke emotion within oneself and others to promote change. The most evident influence of emotion in social situations is the capacity to evoke emotions in other people. Inferences made by others on emotional information can influence power, competence, credibility, and approach/distancing activity. Emotions that people witness in another may influence their current interactions, as well as future relationships with that person. Our emotions are impactful and can have a positive or negative affect on those around us.