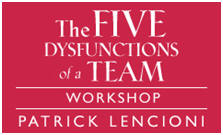 Standard Version (2-Day Workshop)
Facilitator's Guide
Participant Workbooks
PowerPoint Slides
Team Assessment
Poster
The Five Dysfunctions of a Team: Video Presentation (DVD)
Participants will:
Learn practical advice for overcoming the obstacles that prevent teamwork in the office
Learn what it takes to become a cohesive team
Learn how to improve team effectiveness, through strengthened leadership roles
Building Trust
Participants learn strategies to inspire trust in team-members, using the idea that people who aren't afraid to admit the truth about themselves are not going to engage in the kind of political behavior that waste's everyone's time and energy, and, more important, makes the accomplishment of results an unlikely scenario. Team members, beginning with the team leader, must be willing to take risks without a guarantee of success.
Mastering Conflict
Once team members have learned to be trusting and vulnerable, the fear of conflict can be addressed and overcome. Only team members who trust one another are going to feel comfortable engaging in unfiltered, passionate debate around issues and decisions, creating a productive, creative atmosphere in order to make the best decisions for the organization.
Achieving Commitment
Teams that commit to decisions and standards do so because they know how to embrace two separate but related concepts: Buy-in and clarity. Buy-in is the achievement of honest emotional support for a decision. Clarity requires that teams avoid assumptions and ambiguity, and that they end discussions with a clear understanding about what they've decided on. When it comes to commitment, the most critical issues that team members must align themselves around include rules of engagement regarding timeliness at meetings, responsiveness in communication, and general interpersonal behavior.
Embracing Accountability
Members of cohesive teams hold one another accountable, and they don't rely on the leader to do so. It is far more effective when team members go directly to one another and give frank, honest feedback. Accountability means the willingness of team members to remind one another when they are not living up to the performance standards of the group. The team leader must be willing to model the behavior by being willing to step right into the middle of a difficult issue and remind individual team members of their responsibility both in terms of behavior and results.
Focusing on Results
Truly cohesive teams focus obsessively on the collective results of the entire organization. As a result, team members are willing to make sacrifices in the organizations they run in order to drive the collective results of their team. Results-oriented teams establish their own measurements for success. Strategies are provided to focus attention, including the use of a scoreboard to focus everyone's efforts on one thing: winning.